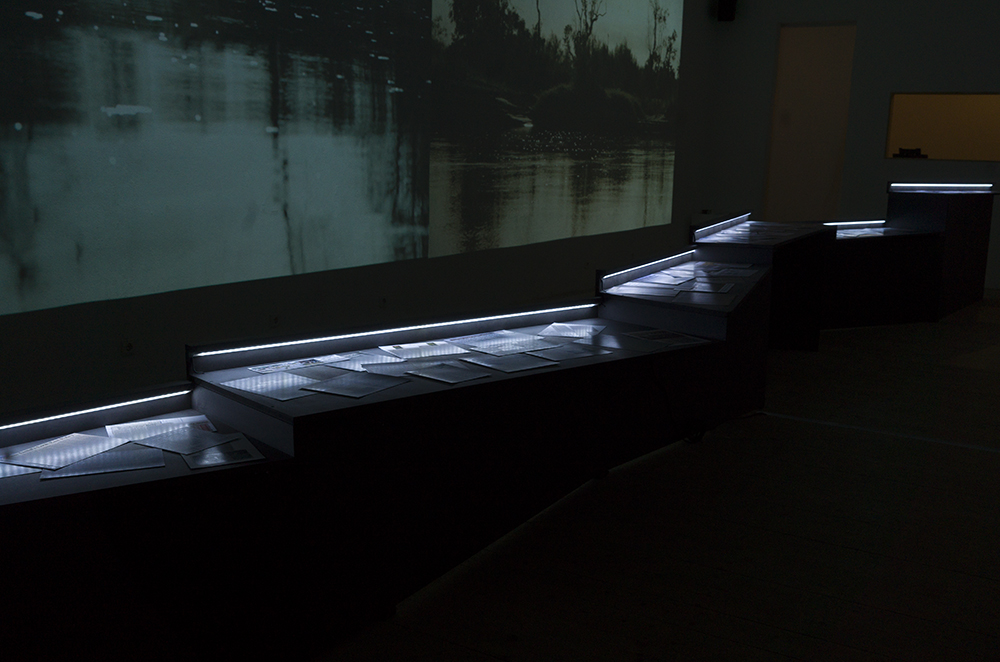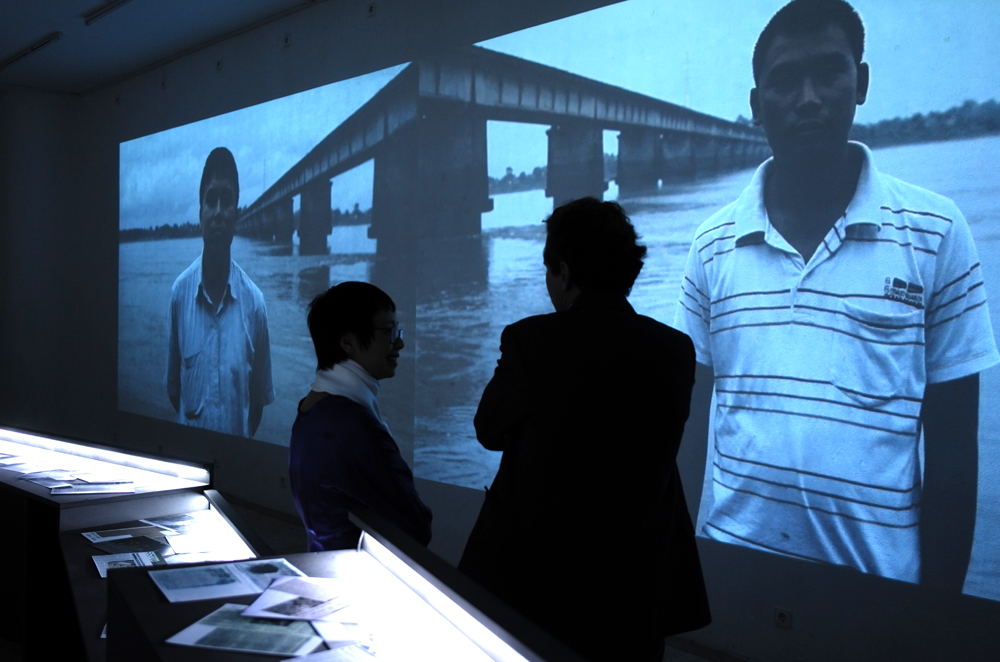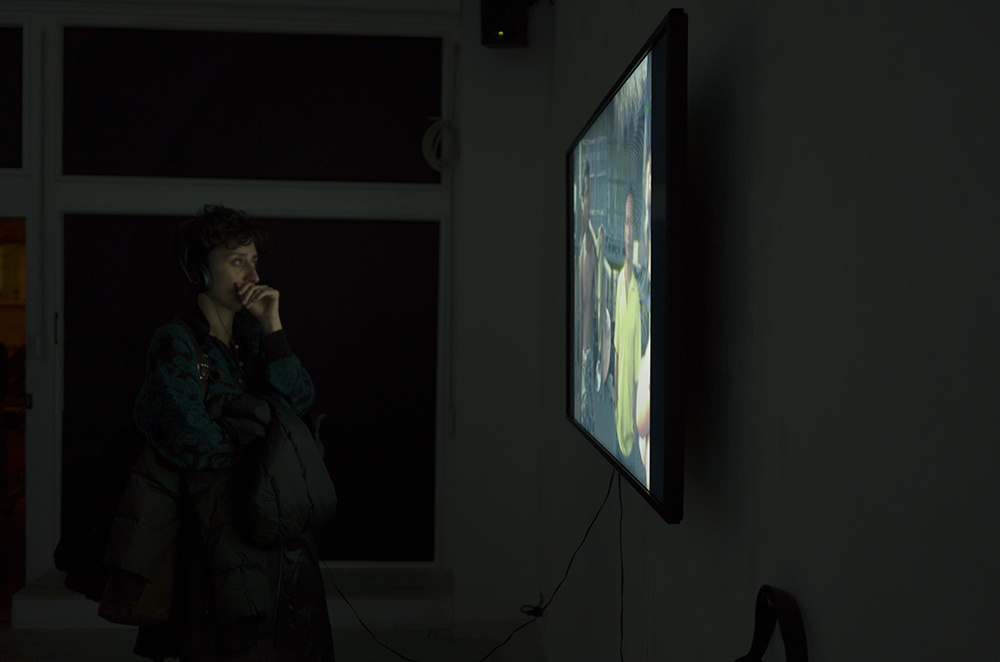 INNER LINES
An artistic reflection on the geographical and political landscape & A discourse on 'decolonization of nature'
The conception for
Inner Lines
began with the issuing of the 'Inner Line Permit' from the Indian Government to allow inward travel into protected zone of indigenous communities in the Northeast India, where the Brahmaputra river traverses through China, India, and Bangladesh, and pours into the Bay of Bengal.
Realized as an artistic multimedia installation of sound, moving and still images, found objects and archives,
Inner Lines
leads us tactilely through a water world of rocky mountains and stunning panoramas of land, river and sacred spaces. The immersive experience of water is audibly combined with sounds of insects, electricity, cymbals, and unseen creatures, culminating into an environmental orchestra. Human voices sometimes interrupt the entrancing experience as a specter of nostalgia for the past, anger at the present circumstance, or a bitter criticism of the coming future. Intimate portraits of people reveal changing face of the area and gigantic dams appear strangely across the river and huge electric poles erect peculiarly over the blue sky.
Examining the river's water issues through a variety of documentation,
Inner Lines
raises questions of a capitalist society, where the planet's materials unavoidably become a resource for human consumption. The video culminates with a romantic view of children happily bathing in the river basin under a wide and sunny sky, upending the dystopian imagery that came before it.
Inner Lines
ponders about the absurdity of human impact on the natural world.
As an ethnographic and documentary experimentation, Inner Lines has been deployed since 2014 by Desire Machine Collective.
---
Discourse on 'Decolonization of Nature'
Friday, Feb 2, 2018, 7:30pm
at NON Berlin
Edda Kirleis, Bread for the World
Klara Feldes, Humboldt University
Moderator: Jost Pachaly, Heinrich-Böll-Stiftung
Considering
Inner Lines
as a local testimony of nature-human relationship embedded in a global political and historical context, the conversation
Decolonization of Nature
will carry out discourses on the development paradigm and modernization that define nature beyond the 'nature-culture' binary.
---
ARTIST
Desire Machine Collective
is a collaborative founded in 2004 by two Indian artists
Sonal Jain
and
Mriganka Madhukaillya
, whose interdisciplinary practice examines ecology, technology and activism through experimental multimedia art, public intervention, curating and writing.
Graduated from the Maharaja Sayajirao University of Vadodara,
Sonal Jain
subsequently served as a faculty member in Communication Design at the National Institute of Design in Ahmedabad, India.
Mriganka Madhukaillya
received a degree in physics from Fergusson College in Pune and completed his postgraduate work in film and video at the National Institute of Design. Being members of DMC, their recent exhibitions include the India Art Fair (2017); the 11th Shanghai Biennale, China (2016-17); the Three Rivers Script Lab at Rome, the British Museum, London (2016); Perth International Arts Festival, Eight Pacific Triennial of Contemporary Art in Brisbane, Queens Museum and Grey Art Gallery at New York University in New York, production and exhibition platform basis e.V. Frankfurt, Germany (2015); Galerie Max Mueller and Project 88 in Mumbai (2014); New Museum of Contemporary Art, Solomon Guggenheim Museum in New York, 3rd edition of La Triennale, Palais de Tokyo in Paris (2012); Musée d' Art Contemporain de Lyon, Museo Nazionaledelle Arti del XXI Secolo, Rome, Deutsche Guggenheim Museum, Berlin and Venice Biennale (2011).
www.desiremachinecollective.in
---
The final outcome of
Inner Lines
is held by NON Berlin in cooperation with Heinrich-Böll-Stiftung and participates in the programme of
Transmediale and CTM Vorspiel 2018
.
Exhibition Architecture: Ido Shin
Exhibition Coordination: Jae Kyung Kim
Public Relation: Daniela Schmidtke
Graphic Design: Dokho Shin
Photo: Wan Ham / Gonzalo Reyes Araos
︎ EXHIBITION
OPENING
Jan. 26, 2018. 7pm

EXHIBITION DATE/TIME
Jan. 27-Feb. 9, 2018 2-7 pm (Tues-Sat)

ARTIST
Desire Machine Collective

CURATOR
Bùi Kim Đĩnh

VENUE
ASIA CONTEMPORARY ART PLATFORM NON Berlin

COOPERATION
Heinrich-Böll-Stiftung

CATEGORY
Archive