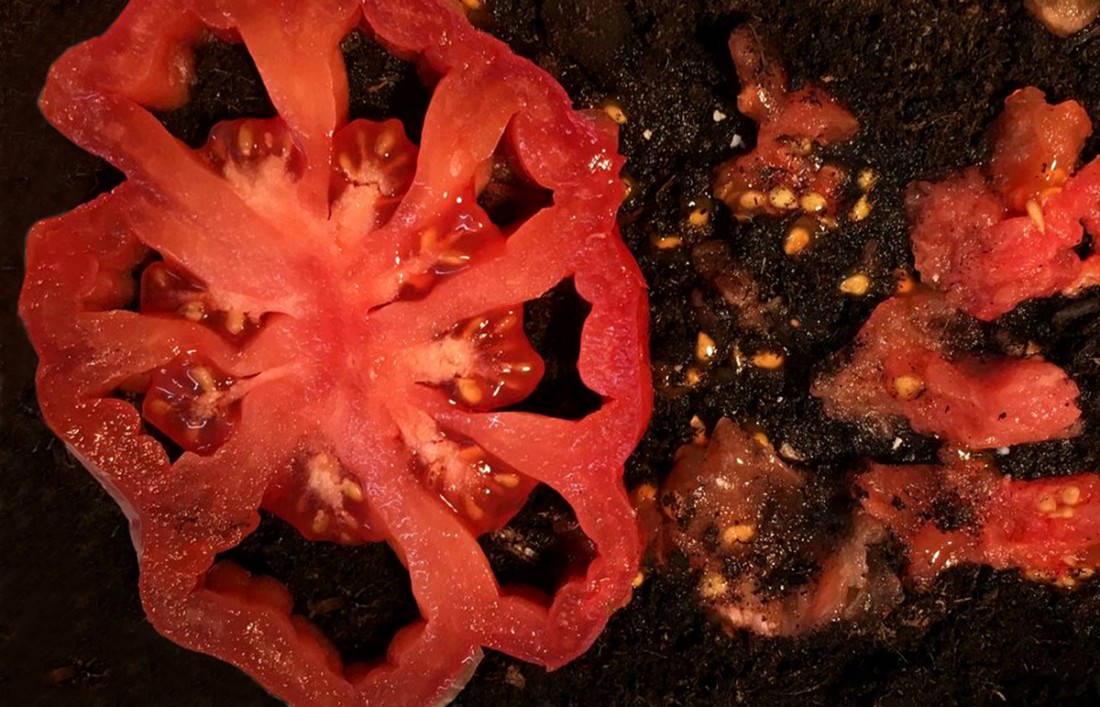 ORIGINS
Korean artist Han Seok Hyun debuts a new installation at Asia contemporary art platform NON Berlin.
This new body of work questions the boundaries of nature in regards to modern 'improved' agricultural produce. The exhibit features second-generation plants grown by the artist from seeds obtained from Berlin supermarket produce. These plants are exhibited alongside their cement casted "mother" fruit and displayed in wire sculptural supports and on pedestals. Han also has on view a humorous series of photos documenting his process from supermarket browsing, to seed planting, and his journey in cement castings.
During his first month in Berlin, Han was struck by the artificial beauty of produce in local supermarkets. During his childhood in Korea in the 1970s there were few supermarkets. He remembered the imperfect fruit and vegetables of the local markets, and wondered what had happened to that type of produce.
To examine this question he collected seeds and pits from vegetables and fruits he bought in German supermarkets in order to try to grow this enhanced produce himself, after first making castings of each original "mother" fruit. In this exhibition, Han Seok Hyun says, "The plants on display are a second generation created from modern-day produce that was an improved agricultural product. I call this a kind of reverse-engineering process."
Han grew the second generation plants using traditional methods of cultivation. He was curious to see if plants grown from the seeds of highly modified 'perfect' produce would hold true to the modified sample or revert to more typical forms when cultivated in a traditional fashion. Han grew mangos, apples, avocados, honeydew melons, starfruit and paprika. The exhibition shows that despite having been heavily manipulated and originally grown using highly technical agricultural practices, the seeds retained a genetic 'memory' of the foundational traditional nature of the plants. Han Seok Hyun is offering the opportunity for his plants to be adopted at the conclusion of the exhibition.
Han Seok Hyun
Han Seok Hyun received his MFA from Korea National University of Arts. His work has been seen around the world, including in Germany, Scotland, The United States and South Korea. Han's work has been exhibited in museums including The Museum of Fine Arts (Boston), Buk Seoul Museum of Art (Seoul), Total Museum of Art (Seoul), SPACEMOM Museum of Art (Cheongju), Pohang Museum of Art (Pohang),The Gyeonggi Museum of Modern Art (Gyunggido),and the Ilmin Museum of Art (Seoul).
Currently Han Seok Hyun is an artist-in-residence at Kunstlerhaus Bethanien (Berlin) and has received a grant from the Korean Arts Council which supports this body of work.
︎ EXHIBITION
OPENING
Oct 20, 2016, 7pm

DURATION
Oct 21 – Nov 03, 2016

ARTIST
Han Seok Hyun

CURATOR
Julie Walsh

PLACE
NON Berlin

CATEGORY
Archive