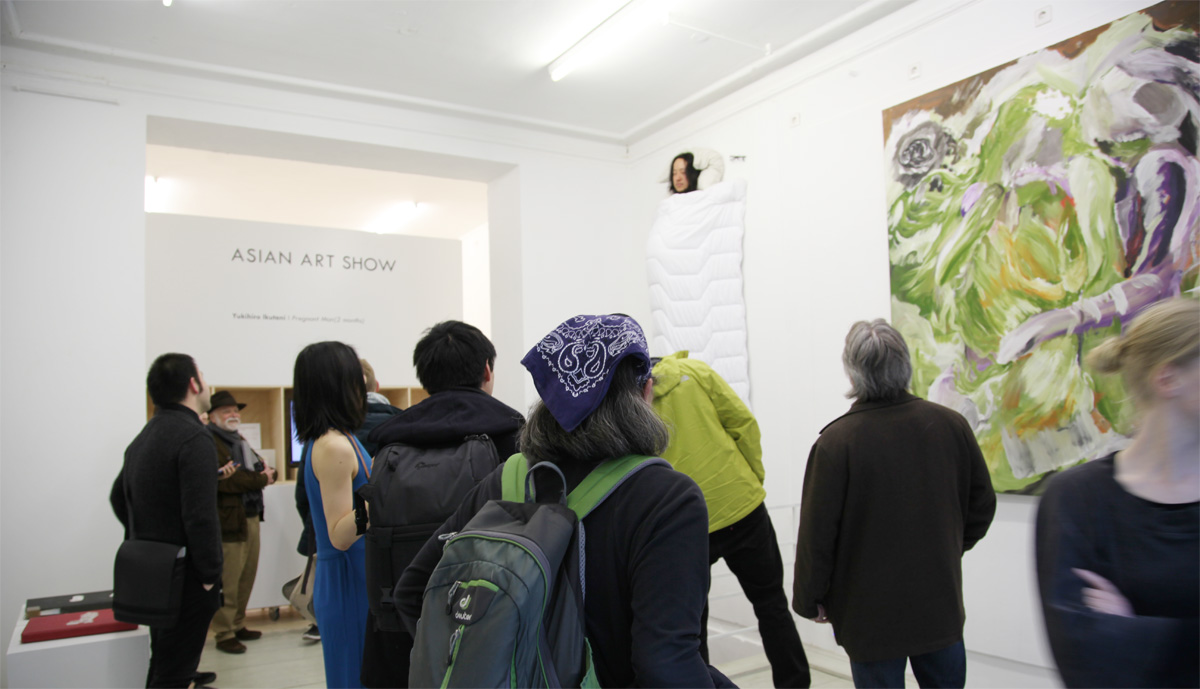 YUKIHIRO IKUTANI – PREGNANT MAN (2 MONTHS)
YUKIHIRO IKUTANI
Artist Statement:
"Give birth to new characters" is my main artwork. When I was a child, my mother was
always pregnant. Now my eldest brother is 38, my sister is 35 and I have two younger brothers aged 33 and 29. There was always a new addition to our family. I want to be like my mother, but give birth to characters in my art. In the preliminary stages of my work I sketch, write and think. Then I try to find the form and composition of these ideas in paint.
I started drawing when I was five years old. I began by trying to imitate Japanese comics. I was inspired by comics initially but eventually I felt the limitations of them. I tried to improve my drawing skills and really wanted to create own work.
The Bible was the main focus of my final project at the Film university Potsdam-Babelsberg Konrad Wolf. As a child I visited a Christian kindergarten in Japan and the Bible has always been in my memory. Since living in Germany I feel my identity has conflicted with German culture. I suppose this is due to having a different cultural background and I want to have own distinct identity as an artist. If I chose similar artistic influences to European artists I could compare my vision with other European artists.
I have now lived in Germany for 13 years but I am not German. My interpretation of the Bible must not be the same as traditional interpretations of European artists. I chose a few stories and figures from the Bible and have focused on "pain" and "pity" as my subject of choice. I took figures from the gospel and studied, drew and really thought about my work as part of the process.
http://sankomedicalart.de/painting.html
︎ EXHIBITION
OPENING
07.04.2016

DURATION
07.04-11.04.2016

ARTIST
Yukihiro Ikutani

CATEGORY
AAS-2016