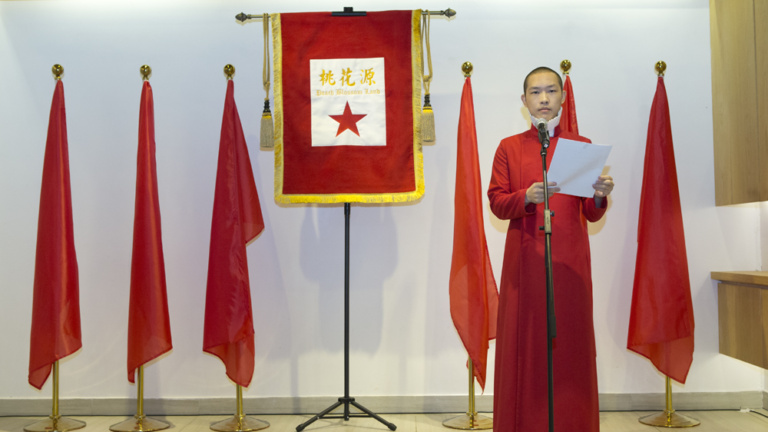 PEACH BLOSSOM LAND /NONNON DADA
NONNON DADA 論論多多 #1 Peach Blossom Land'
A performance series of our lecture program NON論DA多{play}
---
Peach Blossom Land is a spiritual world from the east, it exists in multidimensional space.
It makes you peaceful and happy.
The only way to get into is promoting your positive energies.
The core value is love.
---
Mei Le
Mei Le (1982, born in Wuhan) Based in Berlin and Beijing. He was full time professional portrait photographer from 2008 to 2011. During the photographer career, he was invited to take portrait for Frank Gehry, Anna Sui, Phillip Lim etc. After his father died in 2011, he began his fine art career. Since 2013, he began to wear red robe, it has made him well recognized in the circle of art and culture and fashion in China. He was invited to attend Art Basel HongKong with UCCA in 2014. At the same year, he started to prepare his Peach Blossom Land project. The preparation lasted two years, he contacted 21 embassies in Beijing for support, he met and talked with 8 ambassadors and many officers from these embassies. Late 2016, he launched the project in Beijing, he promoted it on crowd funding platform, more than 1000 people supported it and over 100,000 people read his story. And the project is still going on.
Image credit:
Peach Blossom Land |Photo by Mei Le ©
︎ NON論DA多
Time & Date
7 pm, Wednesday, May 24, 2017
Artist
Mei Le
Organisation
NON Berlin